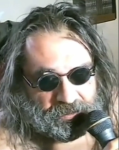 Alternos
Burgershot Member
Alternos's Forum Info
Additional Info About Alternos
Alternos's Signature
Alternos's Contact Details
Last Visit:
2023-11-16, 07:55 PM
Time Spent Online:
25 Minutes, 18 Seconds
Total Threads:
0 (0 threads per day | 0 percent of total threads)
Alternos's Signature:
You are genetic garbage.
Mutant gorillas, homo sapiens created by the Anunnaki extracting race.
The race of Satan, Christ and Mary Magdalene, that in the last 2000 years you have killed all the people on earth,
And you've taken their place and their planet.
Of course I'm crazy, I'm away with the raft.